DJI Mic is not just another microphone model from DJI. DJI Mic is a compact, lightweight, and powerful wireless microphone system that delivers exceptional sound quality at distances of up to 250 m. [1] The transmitter provides clear, professional-level recording of vocals, ambient sounds, or musical instruments. With built-in storage, DJI Mic can be used to capture primary or backup audio during recording. Switch on, connect, and record crystal-clear audio on the go.
DJI Mic comes with two transmitters, each with built-in microphones. Both transmitters support omnidirectional audio, making them ideal for multi-person interviews and small studio operations.
DJI Mic allows you to record high-fidelity, professional audio by accurately reproducing tone across a wider frequency range. Recordings can be made separately via each channel, or the two channels can be combined for flexibility in post-production.
Built-in Touchscreen and Onboard Memory
The receiver's touchscreen display gives you easy access to channel selection, input/output settings, and other essential operations. Both transmitters come with 14 hours of built-in storage to prevent audio frame drop, loss, and other issues.
Cable free, hassle free. Enjoy unlimited creativity empowered by stable wireless transmission. Up to 250m (820 ft.) audio transmission range is supported in open, unobstructed environments without interference, meeting the needs of normal scenarios like live streaming, studios, and outdoor recording.
Using DJI's latest encryption technology, DJI Mic is capable of recording crisp audio at distances of up to 250 meters.
The entire DJI Mic system is wirelessly connected via a stable 2.4GHz frequency band, which allows you to move with complete freedom as you record your adventure.
Powerful Anti-Interference
The optimized wireless transmission system ensures a stable stream of audio, even in areas such as train stations, shopping malls, and offices.
Each transmitter has a convenient back-clip that can be easily attached to clothes and other objects.
When the clothes you're wearing aren't suitable for the back clip, the transmitters can also be attached via the clip magnets.
With the hot shoe adapter, attach the receiver to your DSLR camera, mirrorless camera, or smartphone bracket and capture flawless footage to match the audio.
Different devices mean different input adapters, and DJI Mic covers them all. The receiver has USB-C, Lightning, and 3.5mm TRS ports, making it compatible with mainstream smartphones, cameras, and laptops.
With the provided charging case, spend less time worrying about battery level. The receiver and transmitters can be charged in the case to reach up to 15 hours of operating time for unlimited creation.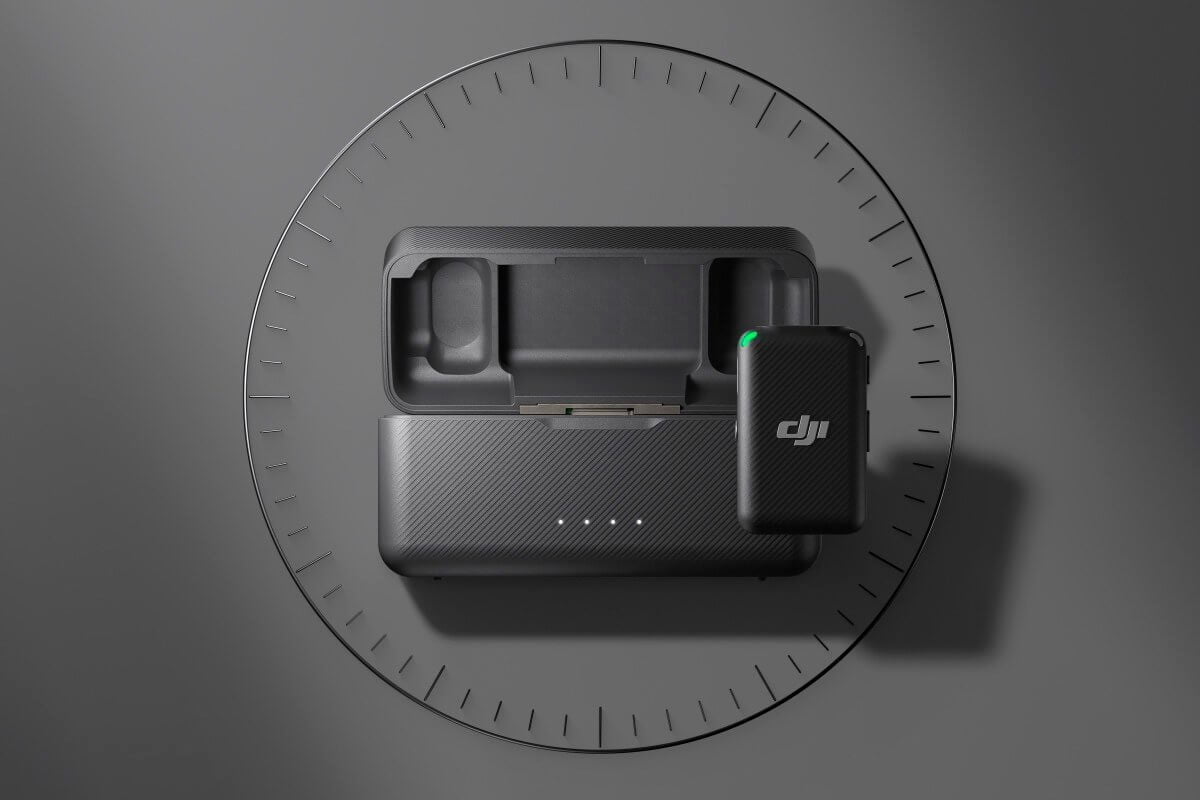 Looking for a system that can keep up with your content needs? Get a full day of audio recording with DJI Mic. Enjoy 5.5 hours of battery life from the transmitters, 5 hours from the receiver, and up to 15 hours with the charging case.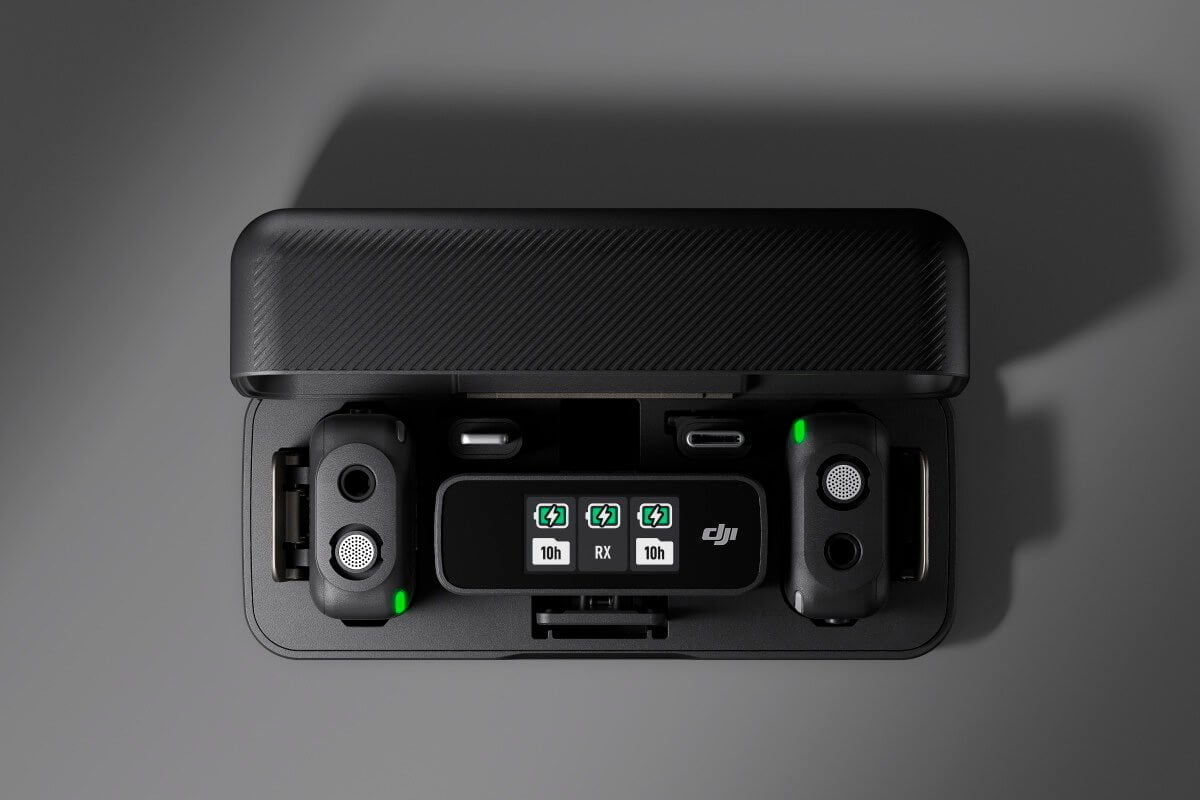 Both the transmitters and the receiver will automatically pair as soon as you place them in the charging case. Simply complete the initial setup and be ready to record exceptional audio in seconds.
A secondary audio track is recorded as a backup with a volume of -6 dB. This helps to safeguard your audio should the loss of sound be caused by problems such as distortion or clipping.
Adjust input and output sensitivity between -12dB ~ 12dB and find the perfect setting for your surrounding.
Effectively suppresses wind and noisy environments while still recording clear sound.