We set out to build the most fun drone ever, and we came up with Tello: an impressive little drone for kids and adults that's a blast to fly and helps users learn about drones with coding education. Get yourself a Tello to find out just how awesome flying can be!
New to Drones? It's easy with Tello!
The miniature Tello quadcopter will appeal to many, as it is very easy to control. Perhaps this is even the simplest, from the point of view of a beginner, an aircraft. It is enough to install the appropriate mobile application on your smartphone and fly Tello at any time convenient for this. Launch Tello into the air and enjoy your first flight experience in a relaxed atmosphere.
First Person View Flight
It seems that Tello is so miniature that it simply cannot have any special "highlights" by definition. But it's not. This tiny drone will help a child or an adult, perhaps for the first time, get incredible first-person flight emotions, because Tello is compatible with virtual reality helmets. Plug it in, put it on and fly the drone. You will simply take your breath away from new experiences!
Best Components from DJI
Even such a small drone is the result of the most advanced solutions in the field of unmanned aerial vehicles and software for them. Thanks to DJI and its developments, you have the opportunity to see firsthand the latest achievements of science and technology. DJI components ensure that your Tello can fly steadily and safely and enjoy a variety of aerial stunts.
Tello Mobile Application
If you think that piloting a drone as small as the Tello is an incredible task, then you are wrong. The control of this baby is incredibly simple and intuitive thanks to the special Tello mobile application developed by programmers. Install it on your smartphone, connect to the drone and enjoy the flight.
Remote Controller
Controlling the Tello drone from a smartphone is unusual for some people. Therefore, the developers of this amazing aircraft have provided the ability to connect remote controls to the drone. And if you already have some experience in piloting UAVs from such wireless devices, you can use the control method that is quite familiar to you.
See the World from the Sky
Whether you're at a park, in the office, or hanging out at home, you can always take off and experience the world from exciting new perspectives. Tello has two antennas that make video transmission extra stable and a high-capacity battery that offers impressively long flight times.
Fantastic Features for Endless Enjoyment
Thanks to all the tech that Tello's packing, like a flight controller powered by DJI, you can perform awesome tricks and with just a tap on screen. Flying has never been so fun and easy!
Throw & Go
Start flying by simply tossing Tello into the air. This is the "Throw & Go" mode!
Air flips? Easy!
Would you like to imagine yourself as a pilot performing aerial flips? Or want to test what Tello is capable of? Slide on screen to perform cool aerial stunts.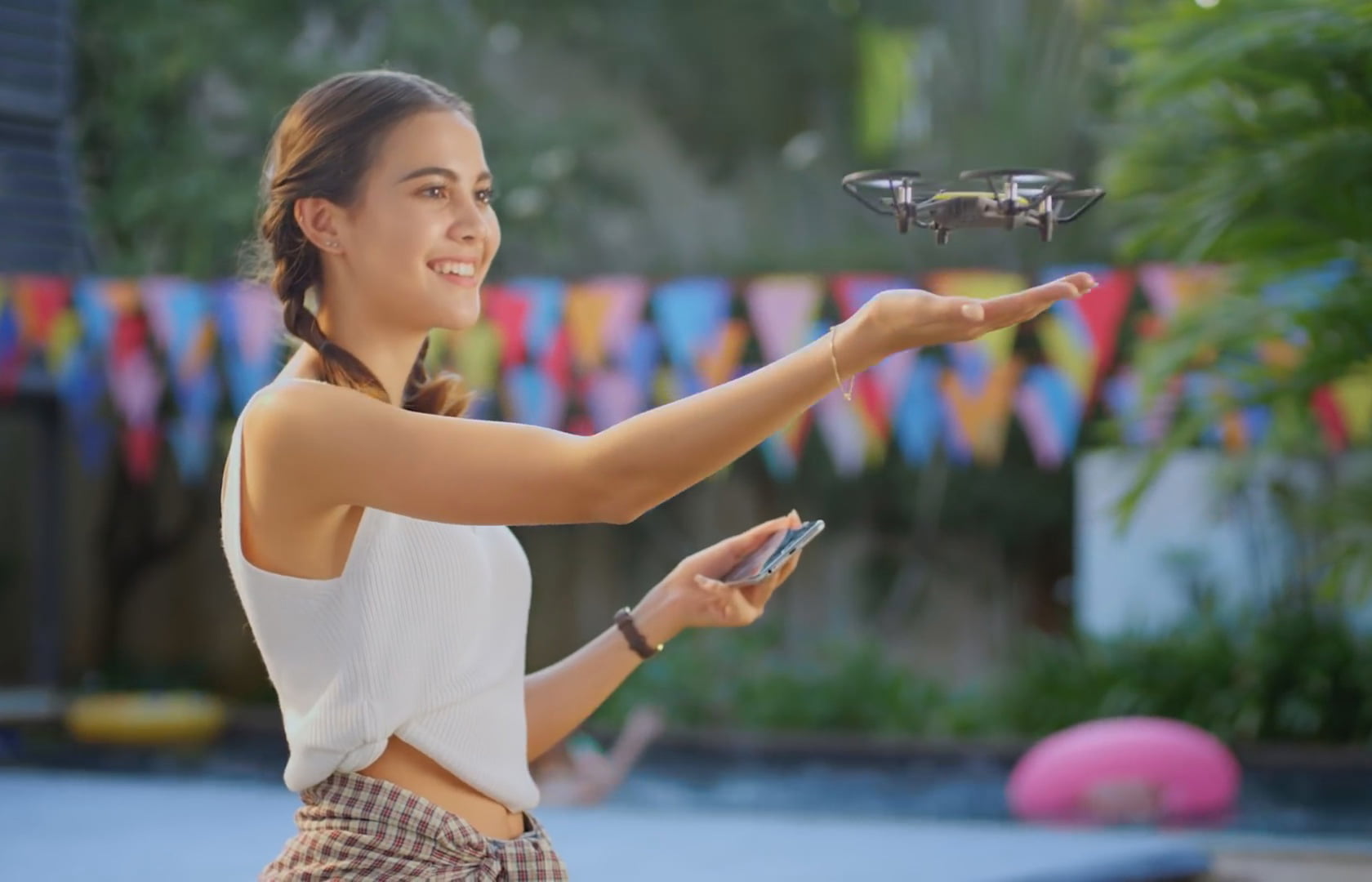 Bounce Mode
Baby Tello can be quite "tame" if you turn on the Bounce mode. Then your miniature drone will take off from your palm and land on it again. No complicated tricks - just turn on this flight mode and put the drone in the palm of your hand!
Capture Great Pictures and Videos
Equipped with a high-quality image processor, Tello shoots incredible photos with a resolution of 5 megapixels and videos. Do you know how to fly this drone yet? This is not an obstacle. You can record pro-level videos with EZ Shots and share them on social media from your smartphone.
Relax! Tello's Super Safe.
Tello's lightweight, yet durable design combined with software and hardware protections make it so you can always fly with confidence.
Auto Takeoff/Landing
Lift off or land with a single tap.
Low Battery Protection
Alerts go off when your battery gets low.
Failsafe Protection
Land safely, even if you lose connection.
Vision Positioning System
Smart tech that facilitates precise hovering.
Play is an essential part of learning, so we made Tello programmable with Scratch. An MIT-developed coding system allows kids and teens to learn the basics of programming while having fun. If you're a more advanced user, you can also develop software applications for Tello using the Tello SDK.